Write Source 1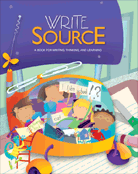 Writing Topics
A special birthday
I'd like to see . . .
The biggest thing I ever saw
Noisy times and quiet times
I like to make . . .
What if toys could talk?
My shopping list
Don't litter!
Big pets and small pets
Insects, insects everywhere
I'm happy when . . .
How plants grow
My adventure
Friendly places
My favorite foods
I know a lot about . . .
Picnic fun
Who's at the zoo?
What will I share?
I rode on a . . .
The parade
I wonder why . . .
What's under my bed?
What if I was 10 years old?
What makes me laugh?
Research Writing (1)
Report: Parrots