Write Source 3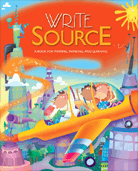 Writing Topics
My best birthday
My favorite family story
Magic tricks I can do
Amazing facts I know
The best house pets
Activities for outdoor fun
What I like about where I live
A place I'd like to visit
A sport I'm good at
Things I'd like to change
Book characters I'd like to meet
Things that are hard to believe
Funny things my pet has done
The weirdest house pets
Activities for indoor fun
A helpful person I've met
A great place to go
Having fun at school
Research Writing (3)
Classroom Report: Cheetahs
The "Multimedia Reports" chapter of this book shows how to prepare a multimedia presentation. The following presentation is based on the storyboard in that chapter. To play these files on your computer, you will need the PowerPoint program (Windows or Mac) or the PowerPoint Viewer (Windows only).
For your convenience, we have also provided a link to a Web slide-show version of each presentation or report (without sound or slide transitions).
Download the "Mercury" presentation to your computer.
Launch the Web slide-show version.