Write Source 6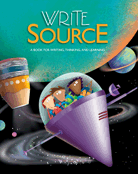 Writing Topics
Here's what a new student needs to know about my school.
Why weekends should be longer
A narrow escape from trouble
What I've broken or lost that belongs to someone else
My first friend
A visit to a relative's house
My chores
A dedicated teacher or coach
When I was lost
My idea of a fun weekend
A school field trip
I've done something no one else has done.
I'm principal for the day. Here's my schedule of events.
A typical lunch hour
If only I would have listened!
How could TV be better?
My favorite neighbor
My bedroom from top to bottom
A memorable bus ride
My best class ever
My first concert
Finally, a good assembly
If I could be someone else, I would be . . .
The most fun I've had recently
The "Multimedia Reports" chapter of this book shows how to prepare a multimedia presentation. The following presentation is based on the storyboard in that chapter. To play these files on your computer, you will need the PowerPoint program (Windows or Mac) or the PowerPoint Viewer (Windows only).
For your convenience, we have also provided a link to a Web slide-show version of each presentation or report (without sound or slide transitions).
Download the "Hurricane Havoc" presentation to your computer.
Launch the Web slide-show version.